About the Author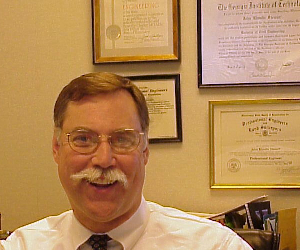 John Stewart (John Rhoads Stewart), PE, is a practicing Civil Engineer (PE means licensed professional engineer) with 36 years experience and an emphasis in his practice in Transportation. In May, 2010, John retired from Gresham, Smith and Partners (www.gspnet.com) after 29 years of service and 20 years as a Partner in the firm. John is considering his options at this time and is open to opportunities for employment.

John has a deep interest in railroads that goes back to the proverbial Lionel train layout as a child. The fascination with railroads is unexplainable. It is coupled to interests in the history of technology, and the development of iron and steel in the United States. Moving to Birmingham, in a corporate relocation, was a serendipity, and he has been absorbing the local landscape ever since.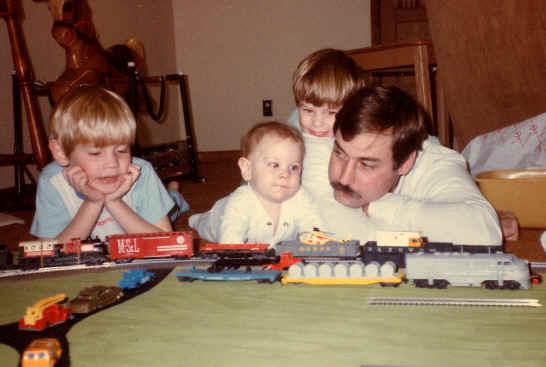 John, Nancy and their three sons are all Web surfers. All of my sons have assisted their confused father in the development of this website over time. In particular, Jeff introduced the author to Microsoft Front Page, which is being used to update this website. (This photo was taken years ago.)
John's interests includes railroading, model railroading, photography, and local history. Since growing up in Nashville, which is sort of a one railroad town, his interests before Birmingham were mostly related to the L & N, and the N C & St L, which were joined in the late 1950's.
After moving to Birmingham in 1992, John discovered the Norfolk Southern and was thrilled to find the operation of the steam excursions originating in Birmingham, although sadly, these have stopped. Additional efforts to learn about Birmingham led him to learn about other railroads that were unknown to him, such as the Alabama Great Southern, and the Atlanta, Birmingham, and Coast.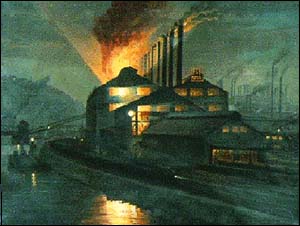 Since traveling to Pittsburgh as a child to visit family, John has always had a fascination with steel mills or any large industrial complex, especially if it makes noise and lights up at night. This image was taken from another web site, which I regret I did not document. This sort of mental image has been with me for a long time, based on trips to Pittsburgh. Trains at night, industry at night, smoke, water and other elements of this picture are typical of the things that fascinate me.
When I surf the web looking for items of interest, I do not seem to find sites that integrate history and current items as a reflection of the author's interests. Birmingham is blessed to have a rich industrial heritage, something that is not always appreciated in today's environmentally conscious, politically correct, society. Birmingham is again blessed to have the Birmingham Historical Society with its wonderful leader, Marjorie L. White, and her supporters. If you want to learn about Birmingham, join the Historical Society.