Marvel
A Coal Mining Town in the Cahaba Coal Fields
The area known as the Birmingham District had many small towns, often called mining camps, that supported the mining activity. Some of these towns have survived, but many disappeared when the mining activity ended.
Internet research yielded a source of photos about several towns in Bibb and Shelby Counties, just southwest of Birmingham. The photos were collected by Marshall Goggins, and he has been gracious enough to give permission for these photos to be used in Birmingham Rails website. I am grateful to Mr. Goggins for sharing these photos with me.
My goal is to use these photos to tell a story -- to provide a view of what life was like for folks who lived and worked in this mining towns in the late 1800's and early 1900's.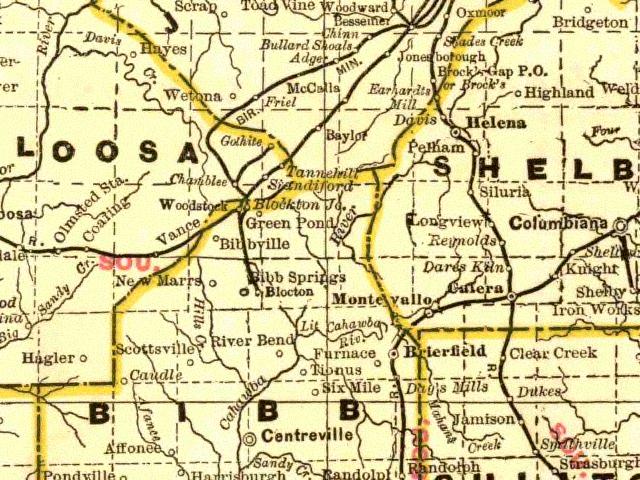 Marvel, AL is located in Bibb County, in an area that is near Blocton (West Blocton) today. This part of Bibb County is located generally between Montevallo on the east, Centerville on the south, and Woodstock on the north. Early in the development of the Birmingham District, (1888 map) this area was served by the L&N Railroad (Birmingham, Brierfield & Blocton RR, Birmingham Mineral Branch) as well as the Southern RR (Blocton Branch). Marvel does not show on this map nor does the rail line that subsequently served Marvel by about 1890.
The development of this area was led by Truman Aldrich, and Blocton was his star development. Coal fields here were so bountiful that a "one ton block" of coal gave the town of Blocton it's name. Like many areas in the Birmingham District, access around the turn of the century often depended on the railroads. The railroads in turn were very interested in the coal as freight, and coal is well suited to rail transport. Based on Aldrich's success, other operators moved into the area.
In these early days, the railroad represented transportation and a source of heavy machinery that could be interfaced with the needs of the mining industry. Indeed, raw coal was typically moved through the mines in low profile rail cars, then loaded onto "outdoor" rail lines, for further transport to coal crushing and sorting machinery. At some point in the process, the coal would be loaded onto coal cars of one of the major railroads that served the area.
The wonderful photos provided by Mr. Marshall Goggins serve to illustrate many aspects of life in Marvel. Work on this will continue in the near future. (Go to Marvel.)
Other nearby Cahaba Coal field mining communities of interest:

(More of Mr. Goggins photos!)