McElwain Furnace
(Old Irondale Furnace) 1863-1873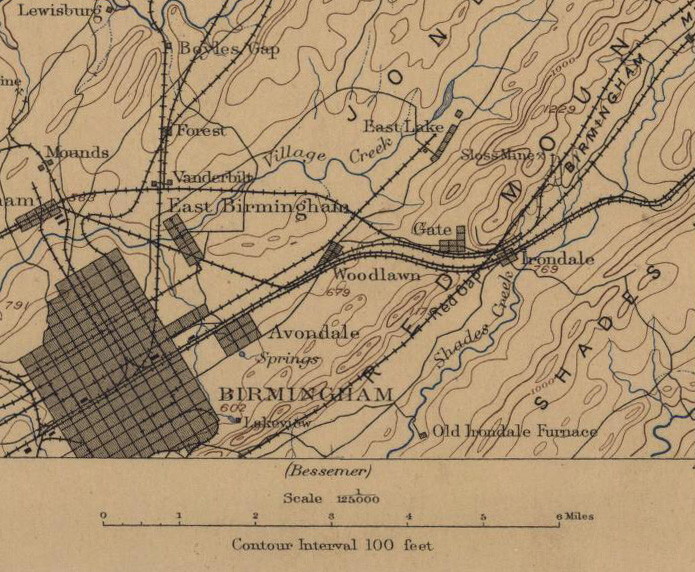 There is a history of early iron furnaces in Alabama that predates the founding of the Magic City in 1871. This history pre-dates the Civil War, although a number of the "old" furnaces, that is, built before 1871, were built in direct response to the needs of the Confederacy.
W. S. McElwain built his furnace along the banks of Shades Creek in Jefferson County in 1863. Iron made in this blast furnace was carried by ox-cart to a rail head at Montevallo, and then by rail to the arsenal at Selma, Alabama. Note that even today the nearby road is called (the) Montevallo Road.
According to The Birmingham District, this operation included a gravity tramway from the iron mine located three miles away. McElwain experimented with coke in place of charcoal, but his operations were ended by the infamous raid by Wilson, in the spring of 1865, which destroyed most of the plant.
However, McElwain quickly reconstructed his furnace operation later in 1865 and continued production after the War was ended. There was brief success and demand after the war with most furnaces destroyed. However, in a few short years, due to competition and failing health, McElwain sold his operations to James Thomas. Subsequently, the equipment was sold to the new Linn Iron Works and to the L&N railroad shops being developed in the new City of Birmingham.
One thing that I enjoy, and a theme of this web site is going to see old historical sites. I used the map archive at U of A, linked on this site, to research the location of the site above. Turns out, I could have called the City of Mountain Brook Parks Department, but hindsight is 20/20.
Mountain Brook has historical markers and a trail to this furnace site. I will get some pictures there, and add to this site. I also have been able to track down the Helen Bess Mine site, using old maps and reference books. What is interesting about this is the apparently there was a tramway that brought ore from the Helen Bess mine to the McElwain furnace, a distance of 2 to 3 miles.