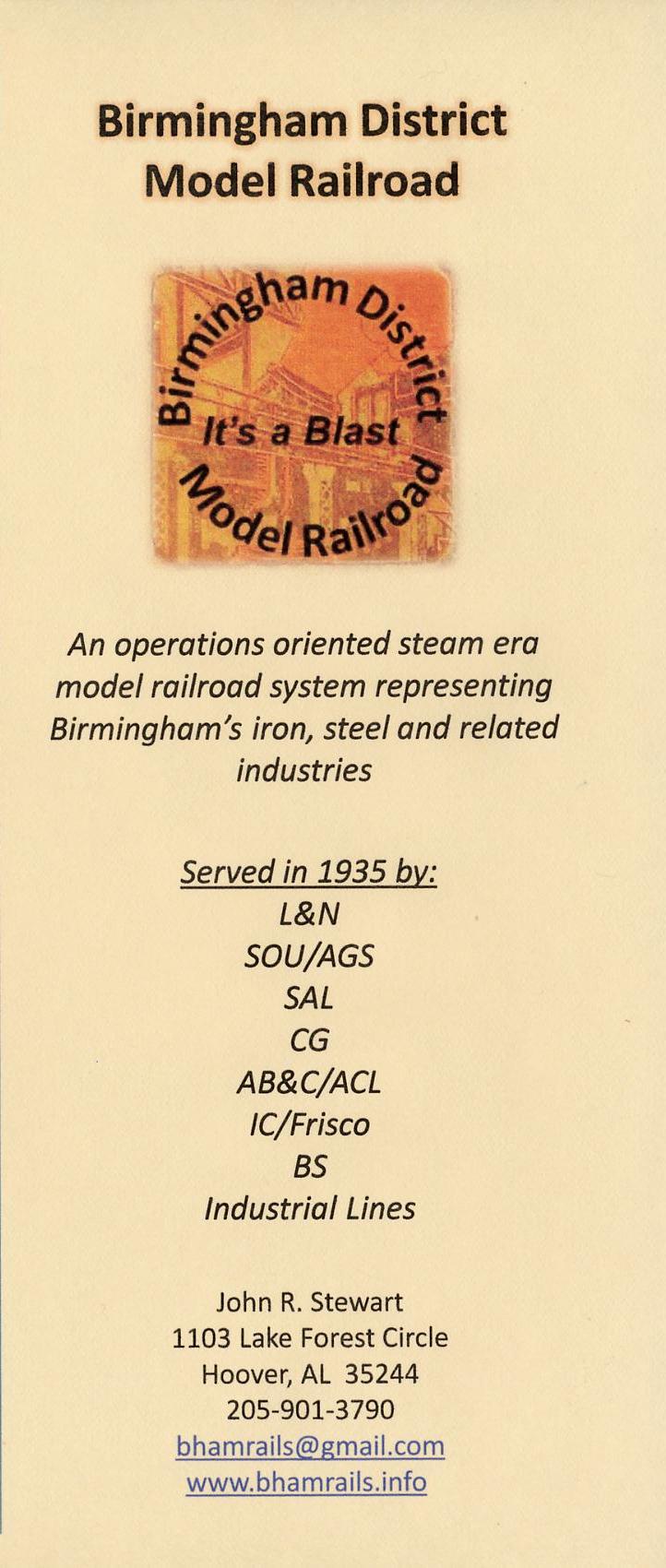 My current railroad is the Birmingham District Model Railroad (BDMRR). Planning started in 2007, and construction started in September, 2008. Construction has been aided greatly by friend Craig Gardner, and I appreciate Craig's help very much. Thanks, Craig. You are a good modeler and a great helper and friend.
This railroad represents the Birmingham Industrial District, the name given to the overall industrial district of the Birmingham area. With this idea, the theme is to represent the key elements of the iron industry and the railroad's role in that industry. So, the railroad will feature a steel mill, coke ovens, iron ore mines on Red Mountain, coal mines and a limestone quarry as well as related industries. The corporate brochure is shown.
Although able to be run as a continuous loop, the railroad is operated as an "out-and-back" format, featuring a formal staging (and "fiddle" yard) that accesses the railroad mainline, which is a large folded dog-bone configuration. From the mainline, there are branch lines for Red Mountain, the coal mine district, an industrial switching district and the blast furnace/coke oven complex.
This would be consistent with the location of the actual Boyles Yard (L&N) in Birmingham located north of the city. Trains working the industrial areas of the city would in fact head south and return north to the yard.
The railroad is in two rooms and features both "around the wall" and peninsula areas. Benchwork is L-girder and open grid method, and was designed using 3rd PlanIt software, which I can recommend, from Eldorado Software. This software enables one to start with the railroad room and work to a complete 3 dimensional layout that may be operated in 3D as well. For example, the benchwork was all planned in 3D, and all of the roadbed was cut out by preparing layouts on 3D plywood sheets and transferring this to real plywood. The software also enables careful planning of geometry and vertical profiles. Track libraries are available including PECO turnouts, my preferred choice. One may create rolling stock and locomotives for the 3D operation. The software is very versatile and powerful.
A lot has happened since the my first model railroad in Birmingham -- and that railroad is no longer (1993-2007). We moved in spring of 2007, and I began planning a new Birmingham District Railroad. I learned a lot from the previous railroad and will preserve it for posterity on this webpage.
Visit the former railroad here.
Back to the railroad -- I learned things from the previous layout. Some of these include walkaround format without duck-unders or doorway bridges. There is no hidden track other than tunnels, and staging is in the open for ease of access. I did continue with building sky backdrops and with most of the corners curved ("coved") using masonite. We did put in valence lighting.
The layout will continue to use Digital Command Control (DCC), and Digitrax is my preferred choice for control. In addition, we have implemented JMRI Operations Module for car movements using Switch Lists.
During Operating Sessions we utilize a remote dispatcher, sitting in a separate room from the layout. Communication is by two way radios (walkie-talkies) and the Dispatcher has an on screen panel to control key turnouts.
Click here to see: Track plan Schematic More on Operations Basic Benchwork Criteria Early progress pictures
---