The Woodward Iron Company operated mines, quarries and furnaces that were connected by a private industrial railroad in Jefferson County, Alabama.
The images at the left above show photo (c. 1994, by author) and historical information about the Woodward Industrial RR. Starting at top left is a Baldwin 2-8-0, Consolidation, locomotive, dated 1923, which is lettered for the Woodward RR, and is owned by the Heart of Dixie Railroad Museum (HDRM). In the next image down, the author is listening to the locomotive's heart. Previously located in downtown Birmingham, this equipment is now located at the HDRM in Calera, AL, located about 30 miles south of Birmingham.
The historical photos that follow show the tipple at the Woodward #3 Mine on Red Mountain, an ore train leaving what is thought to be the #3 Mine, and another train at one of the mine sites which the author judges to be #1, since the picture seems to indicate that this line is in a "saddle" of the mountain. A close look at the map indicates that there was a tailings dump on the south side of the mountain, at the end of track at #1 site.
Tipple photo is in the Birmingham Public Library and is reproduced in Flynt's, Mine, Mill and Microchip, p. 12. The second photo is from the Hoole Special Collection, University of Alabama, and is reproduced in Cline's Alabama Railroads, in the introduction. The next photo is from the Hoole Collection, and is reproduced in Flynt, p. 76.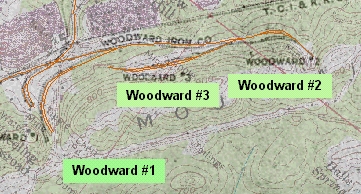 The map is a electronic compilation by the author of the 1935 Railroad Map, and a current USGS Quad Map. One can identify the mine sites by name and number, as well as the layout of the industrial track operated by Woodward on the "north" face of Red Mountain. It appears that the Woodward line came up the mountain, crossed under the TCI RR, and had an interchange track with it. Then the Woodward line, using a switchback configuration, worked along the face of Red Mountain to each of 3 mine sites. To the left of this location, looking at the map, is the Sloss #2 mine site, and to the right is the TCI/USX Wenonah #7 mine site and head of the High Line.
Additional study shows that the Woodward operated other facilities served by rail:
The Library of Congress has images of several of these facilities.
These locations can be explored on the 1935 Map with these links to the correct segments: Woodward Junction, Wheeling, Collins, B4 Junction, and Fairfield Plant. Each of Woodward's facilities can be located on these map segments, except Mulga Mine which is outside the map limit.